I just finished putting together the best gaming desk that I have ever owned. It's the Homall Gaming desk, which is a company I've never heard of. It checked all of the boxes for me and I was not disappointed. Sure, I have not owned a lot of different desks, so I have a short history. I did still want to share for others looking for a new one.
Before I talk about why I like the desk, let me talk about where my desk adventures started.
My Previous Franken-Desk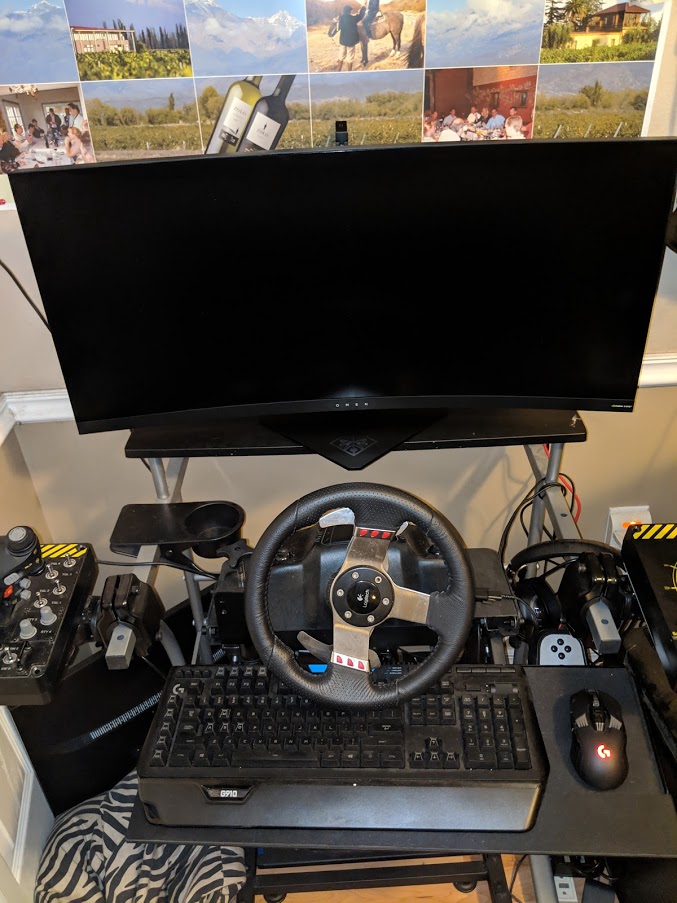 The Last Time I Needed a New Gaming Desk
Over the years, I've built up my PC hardware to the point where I have a great setup. It includes the Saitek X-55 HOTAS and the Logitech G27 wheel system with the H-gate shifter. It's so much fun to have those things I could only play with in an arcade when I was younger. The problem is they don't exactly make it easy on desk space.
Using the office desk I had, it wasn't easy to use the HOTAS due to the way the desk curved. The joystick and throttle would have to fight with my keyboard for space. Using the Logitech racing wheel setup with that desk was even more frustrating.
I would have to move the keyboard and then fasten the wheel in it's place. All while the h-gate shifter would fight for space with the mouse. It was fun using the equipment, but not fun having to fasten or move everything around. I knew I needed a new desk and really wanted this one:
Now I'm sure you can guess why I passed on that one. Not everyone wants to pay hundreds for a cockpit style gaming desk. Instead, I started trying to cobble my own together. It's funny to think about now, but I really hacked it together.
Building a Better Gaming Desk
I started with my son's old minimalist desk and took of the keyboard portion off of the desk. I then used VESA pole mounts to create platforms for the HOTAS setup on the keyboard supports. It turns out, I needed some metal plates from Home Depot to complete the platforms. The Velcro strips I added would keep the HOTAS attached.
At that point, I had already bought a VEVOR G920 Racing Steering Wheel Stand (pictured below) for the Logitech G27. I was able to just slide it into the middle part of the desk (after removing the keyboard portion). On a side note, the G27 is no longer for sale. They replaced it with the better Logitech G29 which I might upgrade to later.
That racing mount had the correct screw holes to secure the pedals, wheel and the h-gate shifter. It had some minor adjustment with the big hand turning screws. There are also screw holes to mount a chair to it. I just settled for a rigid cargo cord (not bungie) to hook into those holes.
It wrapped around the base of my seat to avoid sliding back when pushing pedals in a heated race. I even found a clip mounting cup holder for the gaming desk. Drinking and gaming can be even more fun.
The last piece I had to deal with was the keyboard and mouse. I wanted to be able to swivel the keyboard away and bring it back quickly. This puzzle I solved with a VESA desk mount with a swivel arm. That I secured to the racing wheel mount and got a VESA keyboard/mouse tray to attach to it.
It let me move it away when needed. I could then focus on the wheel or the HOTAS, but it makes the keyboard/mouse wobbly. The wobble is not ideal for competitive games like Battlefield or Rocket league. That is what finally pushed me to get a new desk with a stable place to put everything.
Choosing the Best Homall Gaming Desk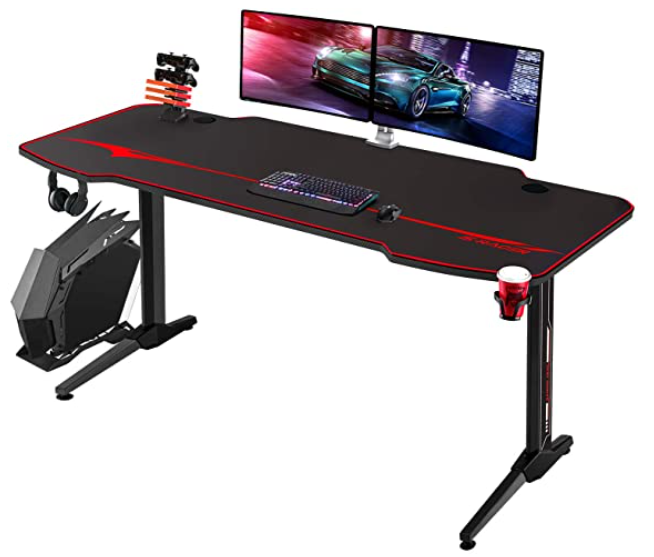 As I mentioned before, the keyboard and mouse wobbling around pushed me to get the new gaming desk. I opted to go with the long table top to ensure it's stable and can fit a bunch of stuff. Amazon was my first and only stop. There were plenty of similar desks with different no name companies. That makes me assume they probably all get the same base desk from another Country.
I ended up choosing the Homall Game desk for:
Length (55in) to fit my ultrawide monitor and the HOTAS.
The lip on the back gives a bit of extra room for the huge monitor mount my Omen X35 has.
Cup holder – seriously every game desk should have at least one
Hanger hook for my headphones.
Stable base.
Mousepad that covers the ENTIRE desk.
Cable Management holes at the back corners.
As a bonus it had a stand for my steam controller and any physical copies of games I might have.
After putting the new desk together, I noticed the headset holder and cup holder can swap sides. It took about an hour or so to put together, but I was already tired when I started.
When I finally hooked all my hardware back up, I was tired and craving to play. I decided not to bother with cable management. I already knew this was my best gaming desk.
The only downside I have is the height is not adjustable. It ended up being just too short for my racing wheel mount to fit under. Since I use the keyboard and mouse the most, I just fold the wheel mount up to the side. I don't mind the setup now that I have room to make that a 1 minute process.
I tested out the desk with a nice margarita in the cup holder and played some Rocket League. Having this new stable desk made me a better player and I just love how much more organized it looks. Now if I could just get that new video card I'm craving.