After working on my settlement last time, I met with the AC Valhalla Sons of Ragnar to replace a king. Having watched just about all the seasons of Vikings, I was looking forward to meeting AC Valhalla's version.
AC Valhalla Sons of Ragnar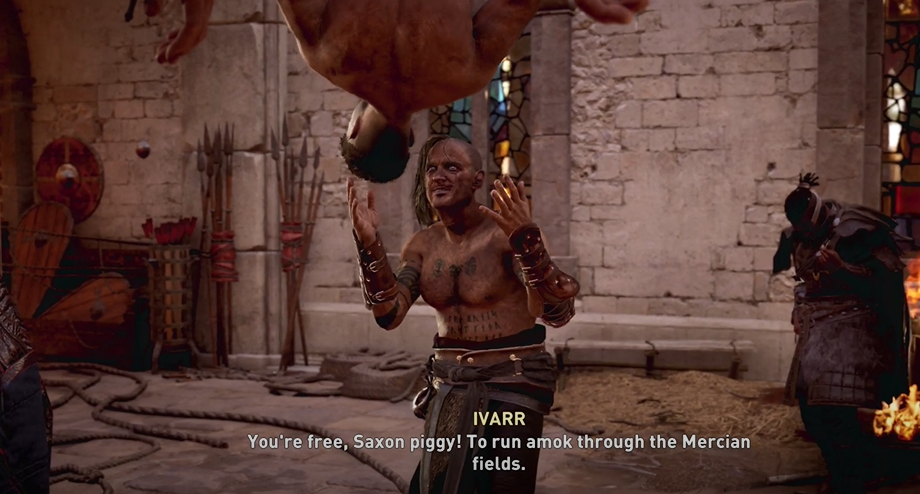 Ivarr was no where near as crippled as the one on the show, but he is definitely just as sadistic. I met him while he was torturing someone he hung from the ceiling.
Right after he cut the guy down, we took a leisurely stroll while I took in the sights of Repton. That was the town they conquered. After our walk, we met with Ubba who was definitely the calmer of the brothers.
Sigurd was already there ready to help them with their plan to replace the king with their Saxon friend, Ceolwulf. I even met a mercenary the brothers were using, Tonna.
She was so obviously going to betray us since she made it clear she's about the money. Oh and I was right, but more on that later.
Bard of the Sons of Ragnar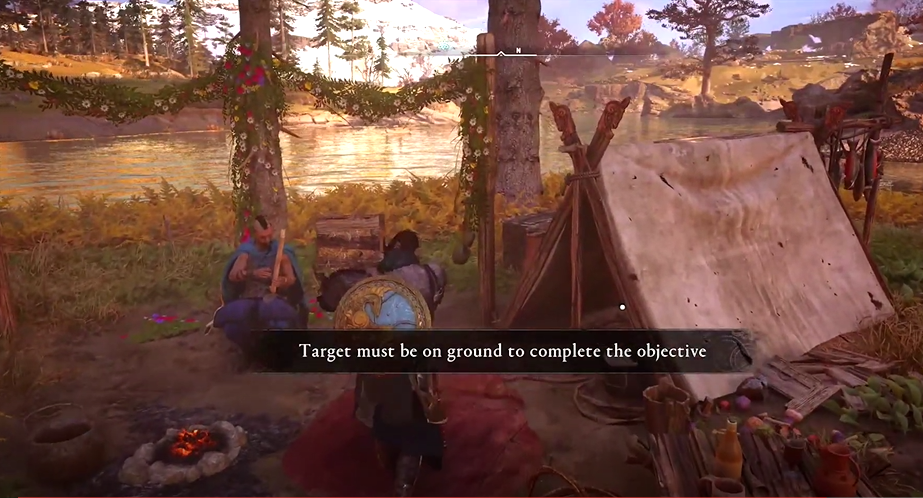 I went on a tangent to play some dice and find some treasure in Repton. One house was locked and the key was not nearby (the raven can detect this). A note on the door gave me a clue to who had the key and where they were.
I found the guy on an island playing his harp. He decided he no longer wanted to fight with the AC Valhalla Sons of Ragnar and wanted me to have his things. Getting the key just took finding the guy, but wait there's more.
Rummaging in his house, I found a box of his songs, so I was compelled to return them. It was simple, but I found it fun to pick up the box, place in the small boat, pushing the boat over to the island and dropped the box off to him.
I love when a simple activity of finding a key turns into a mini mission with multiple steps. It might technically be a fetch quest, but with the multiple steps, it doesn't feel that way.
Siege of Tamworth Fortress with Sons of Ragnar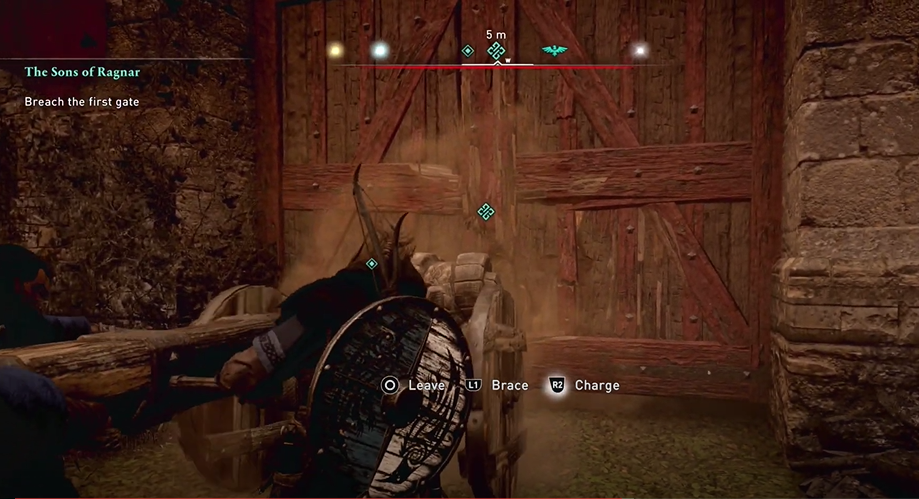 While we all rode on horseback to Tamworth, I took in the sights that the developers were obviously trying to show off. God rays shining through the trees and light glistening on the water was nice to look at.
It's not ray traced, but still looks really good. The pink and purple flowers help break up the greenery. Better than Witcher 3 visuals, although that game was meant to be a bit more grim.
The actual siege was simple, but fun. I used a rolling battering ram to help my crew break through each gate of the fortress. It only takes a few charges to bust open, but there were times to pause to raise our shields while arrows flew.
Once inside each gate, I showed off the abilities that I acquired up to that point. Things like napalm-like arrows, calling my wolf to attack (result of another mystery turned mini side mission), etc.. All while the sun started setting to give a different mood.
The fighting that follows a siege is similar to raids, but AC Valhalla manages to keep it fun with all the variation, at least so far. Unlocking new abilities keeps things interesting.
We were able to capture the fortress and put Ceolwulf on the throne. Problem was the old King and Queen escaped. It should be no surprise since a lot of these mission inevitably have multiple parts.
Capturing the Queen Aethelswith of Mercia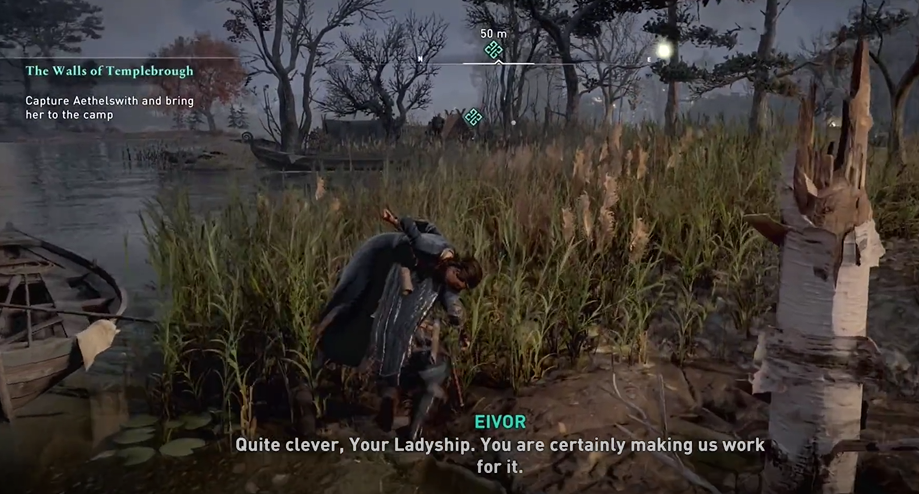 We did not find where King Burgred's hideout was, so we decided to go after his wife instead. She was hidden in Templebrough which was a pretty decent sized fort.
Large forts are tough to go in axes out, but they do offer a lot of stealth options. Parts I used my disguise and others used my climbing skills to get around guards.
I like the easier option sometimes, but the queen had another twist for me. After confronting her and her maidens, we let them go. Unlucky me, the maidens posed as her. The big clue were the maiden's hands (queens have soft and clean hands).
The queen's trick led me to a nice foot race to chase after her, while avoiding all the fort's guards. Those guards are no match for Eivor's jumping and climbing skills. That let me make a quick exit.
My chase of the queen took to the water via a small boats. She rowed to a spot with a few guards that I dispatched of easily. It was fun to tie her up, lift her up and place her in the boat.
Using the boat ensured I would skip any guards on the way back to the Sons of Ragnar. Each of the actions only required holding a button, but the multiple steps to get her back to camp gave the illusion of kidnapping a noble.
She later gave up her husband's location to save the kingdom from many deaths. It also didn't hurt that Ivarr stopped by with a several severed heads in a bag. We basically played good cop, psycho cop. I liked how quickly her uppity ways were replaced by fear.
Capturing King Burgred of AC Valhalla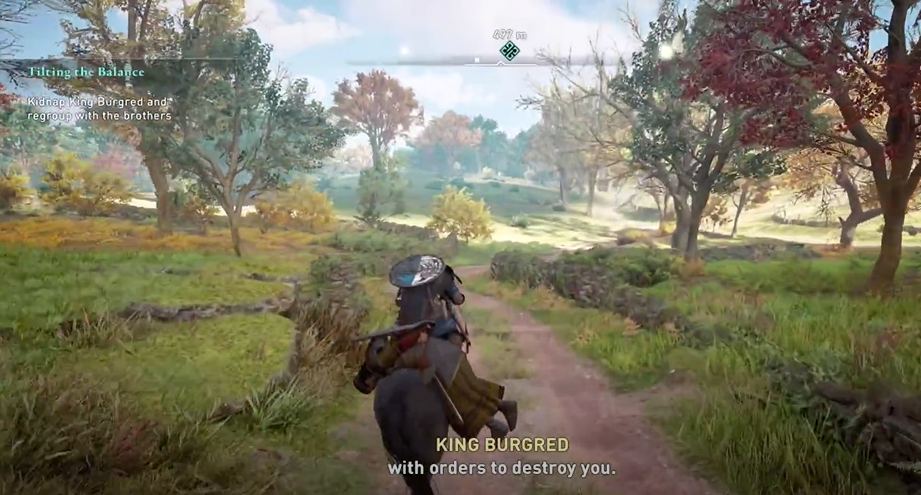 King Burgred was hiding in a crypt. An ironic place to hide when you think people are looking to kill you. Lucky for him, we needed him alive to help the new King's claim.
His guards were spread out thin enough that I systematically was able to assassinate each one. It's nice to have fun tearing through the guards and not deal with the frustration of fighting a ton of guards.
I made my way through the crypt with some quick stops to find some treasure here and there. Solving mini puzzles to get after the trinkets is still fun btw. I found the king behind a locked door with a single guard.
That guard didn't have a chance to warn the king before I cut through him and busted through the door. The King dared challenge me to a fight. It wasn't even a fair fight at my level.
It was a bit comical beating him into submission. I then gave him the treatment I gave his wife. Tied up and thrown over my shoulder. It was obvious I would run into guards, but I took the backdoor.
Tonna was there with a few guards to stop me, so I was right she would betray us. I had to set the king down, but my abilities made quick work of her and her guards.
Lucky me, I had my long ship nearby to plop the King into and sail off to the meeting spot. There was a bit of an ambush there, but we escaped with the king. I thoroughly enjoyed grabbing him out of the boat, throwing him over my horse, then riding him to the new king to grovel.
Becoming a Target for AC Valhalla Zealots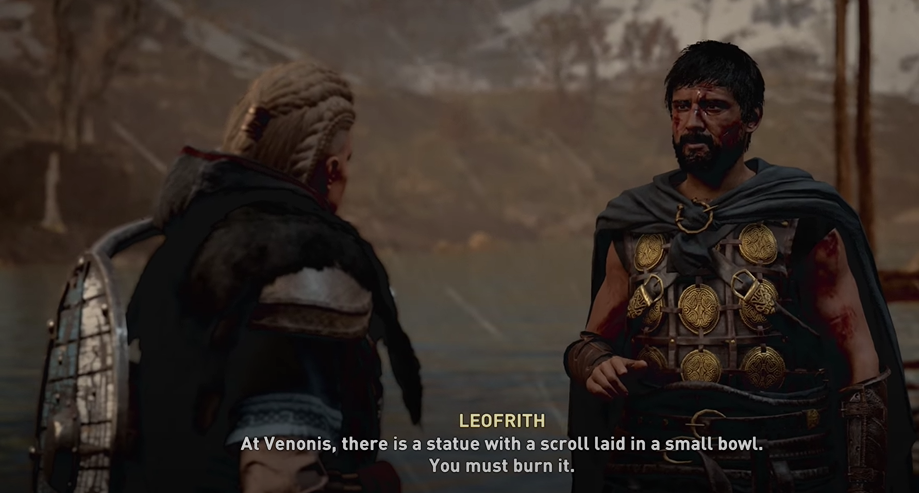 King Burgred's threatened me the whole way to the fortress that his right hand man, Leofrith would get revenge. Leofrith tried by confronting the new King's son, but I took control.
I chose to spare him for being an honorable man who was loyal to the wrong king. He paid me back for the kindness by warning me that he left a note for zealots with order to hunt me down. My mission was to burn the note before they saw it.
Well I somehow screwed that up. It's a time sensitive mission and I missed out doing things with the AC Valhalla Sons of Ragnar. The weird thing is that I left the game to go eat and came back to the hear I missed my chance. Not sure if it was a bug after loading back into the game.
Now I would be hunted through the rest of the game, whoops. I'll see how that plays out next time.