Another of my Christmas presents was the Logitech G920 racing wheel. I love Forza Horizon 5 with the Logitech G920 racing wheel. It's a decent upgrade over my old Logitech G27 racing wheel. The game and new wheel are the perfect combination. Found and fixed an issue with the brake pedal. Now I just need more time to play between just finishing Halo and starting Death Stranding (more on that weird game in a later post).
Racing in Forza Horizon 5 with my Logitech G920 Wheel Setup
I play a wide variety of games, so I avoided something bulky like a play seat. Maybe one day I'll splurge on one of those all in one setups with mounts for HOTAS, wheel and slide out for a keyboard. For now,
Wheel Stand
I'm working with the Vevor steering wheel stand. It's easy for me to move and can fold down for slimmer storage.
I'm using a typical gaming chair that slides around, so I bought a cargo strap to prevent moving when pushing the pedals in. That strap fastens to the stand, then I wrap it around the chair base before fastening the other side to the stand. It works pretty well as an alternative to a full chair mount for racing.
Logitech 920 Racing Wheel
My upgrade from the Logitech G27 to the Logitech G920 racing wheel was fairly seamless. All the mounting screws from the old wheel pretty much matched, so just a quick swap out. My present did not come with the H-gate shifter, but my existing one from the G27 is compatible with the new wheel. Apparently, the only thing that doesn't work are the buttons on the shifter, but the new wheel has plenty.
H-Gate Shifter
For those without an existing shifter, Logitech does sell a newer version of the H-gate shifter without the added button:
There's no need for me to buy this newer version of my trusty shifter, but I do eventually want to buy the Thrustmaster TH8A Shifter. It's out of stock from the Christmas rush in most places, so I'm waiting until the price gouging is over.
Emergency Brake
To round out my racing setup, I bought an authentic emergency brake handle. It's a real car emergency brake handle that provides analog input. Instead of pressing a button to go full on e-brake, you can apply a little or a lot of brake.
It comes with a table mount, but my current shifter is too wide to leave enough room to mount the handbrake next to it. My hope is a new shifter will provide that extra room, because desk mounting it is awkward for me.
Racing in Forza Horizon 5 with my Logitech G920 Wheel Setup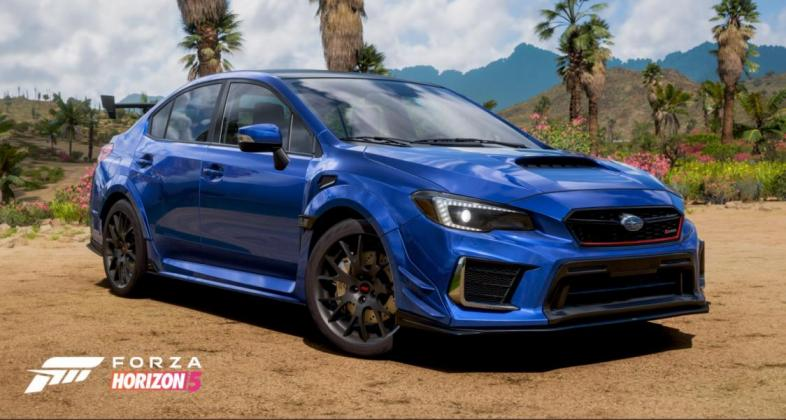 Forza Horizon games are fun and Horizon 5 is the most beautiful of them all. The game is filled with race types. I really like the dirt races, but the Baja races I unlocked might be my new favorite. It definitely taps into the fun of racing with barn finds, speed traps, drifting, wheel spins, crazy set pieces racing against planes or dirt bikes, etc..
The wheel spins provide a bit of Casino fun with a wheel of fortune or slot machine-like chance to win new cars, cosmetics, game currency and more. It seems like the game always rewards you with something. There are so many cars to play with, including my Subaru WRX STI (albeit a few years earlier edition).
I'll likely talk a lot more about the game in the future.
Racing with a Wheel is the Way to Go
Forza Horizon 5 is fun however you play, but a full wheel setup is the way to go. Although I chose the Logitech G920 for it's Microsoft game friendly Xbox buttons, there's a known issue in game where the buttons are not labeled correctly. Instead of 'X' button, for example, I get 'Button 1'. It is still much easier to remember what named buttons on the new wheel (old one were all just red).
The game did recognize the wheel no problem and preset the controls for me, but the handbrake I mapped myself. I accidentally reset controls when troubleshooting the button labels mentioned above, so I went without working e-brake for a bit. No wonder I kept crashing. Don't make my mistake. Map it.
The build quality is better on this new version and the force feedback is much smoother. Maybe it's just in comparison to my old G27, but I don't regret the upgrade. I guess it's even easier when it is a Christmas gift I didn't pay for.
Logitech G920 Brake Pedal Issue Fixed
The last little hiccup with the new wheel and the game was the brake pedal. It's stiff and almost impossible to push all the way in. It's not broken. That stiffness is by design. It provides a bit of that hydraulic brake pedal feel. The feel is great, but not much fun when I can't apply full brakes.
The solution is searching windows for Game Controllers, then going through the right click option to get to the Calibrate option.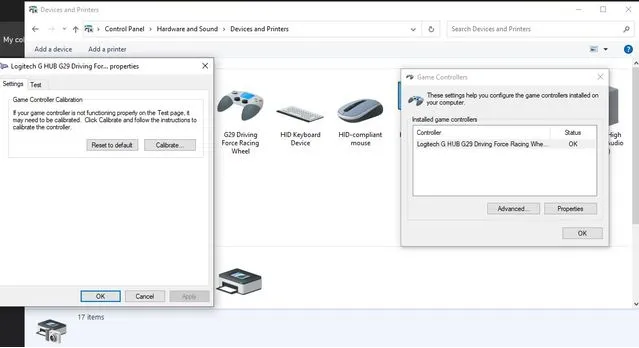 After completing calibration, the distance you think is full brake applied will match in game. Sure you can adjust in game, but it sets you up for any racing game. It's so much more fun now that I can brake properly. Now I'm back to playing Forza Horizon 5.