After months of dealing with headset problems, one of my Christmas gifts is the new Microsoft Xbox Wireless Headset. All of my old problems with my previous headset are gone. No more using a paperclip to pair my old headset over and over. The sound is great in Halo Infinite, but now there's a new problem caused by the game and a temporary workaround fix for now.
End of my Logitech G933 Artemis Wireless Headset Era
For years, my Logitech G933 Artemis wireless headset served me well. The sound was great and battery was adequate, but a connection problem popped up months ago. This all started a year after the warranty was over and the problem wasn't bad enough to pay for a new one.
It started with the headset disconnecting after every charge. That evolved into disconnecting after every use (turn off, then turn back on). Every time I started my PC to play, my ritual consisted of:
Turning on the headset
Waiting for the disconnect 3 beeps signal
Insert a paper clip into the wireless adapter to pair the headset, again.
Yes that is a pain, but the headset works and I couldn't justify the cost of a new one. Inserting the paper clip only takes a few seconds, after all. Thanks to my Logitech G815 Keyboard, the wireless adapter for the headset was easy to access. Lucky for me, my family took pity on me and gifted the Microsoft Xbox Wireless headset.
Testing my New Microsoft Xbox Wireless Headset
I read the reviews for the Xbox Wireless headset and realized it's a worthy replacement for my old headset. It also helped it was half the price of the Logitech headset (at least back then). With how great Microsoft PC Game Pass is and the great sound of Halo Infinite, I figured it's a perfect match for games I'll play (the Xbox roots almost guarantee a good pairing).
Unfortunately, I forgot the headset requires Bluetooth and I never bothered to add a Bluetooth adapter to my PC. Luckily, my son kept his old Bluetooth USB adapter and boom, I connected the new headset. Connecting wirelessly did not allow me to update the headset, but the wired connection did. Hope they fix that in a future update, because the charging USB cable is comically short.
Sound is great with deep bass and the ear cups keep outside noise to a minimum. According to my son, the microphone quality is great for anyone listening in on the other end. What's truly great is the disconnection issues with my old headset are gone. Turning the Microsoft Xbox wireless headset on is the only step I need. No more paperclip workaround, but I'll need a longer USB charging cord for longer gaming session for sure.
The headset sound is fantastic in Halo Infinite, but a sound problem with that specific game popped up on day 2.
Muted Sound Problem in Halo Infinite and a Temp Solution
On day 2, everything in Halo Infinite sounded great until the title screen. At that point, all sound muted. Even when I left the game, no sound. What I noticed is there are both an Xbox headset speaker listing and a handsfree headset listing. Halo Infinite kept defaulting to the ear piece.
It didn't matter if I went into Sound settings and set the speaker list to default. Even disabling the ear piece option was no help. Only when I enabled the ear piece again, then chose the right click option to disconnect that entry. After that step, Halo sound was back.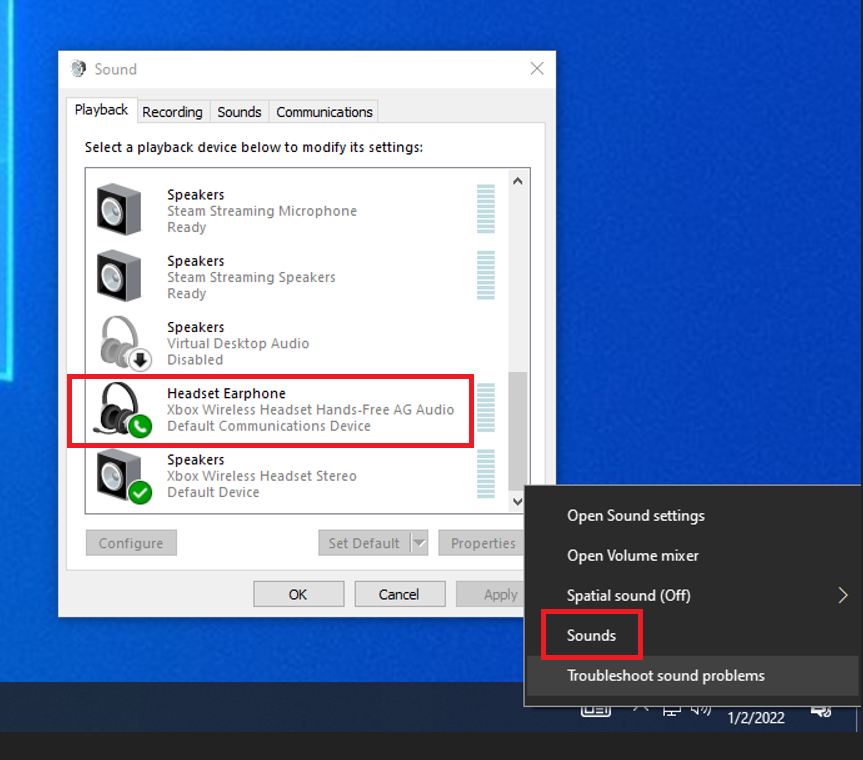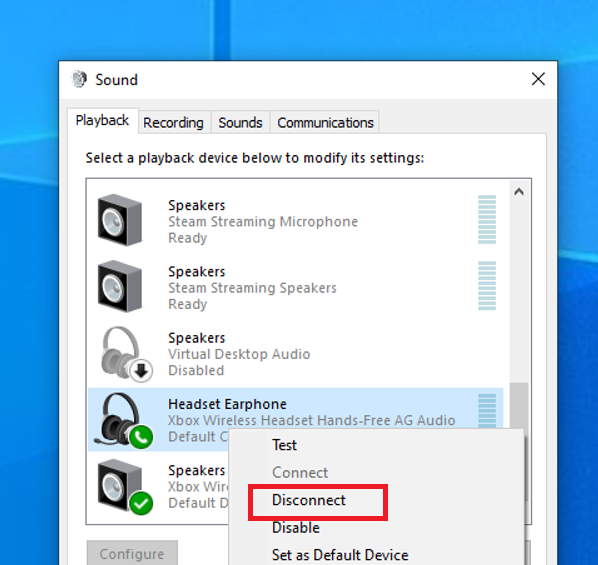 It's a great temporary solution, but it disables the microphone. I might play online, so I require a permanent solution. This work around also resets every time the headset reconnects (turned off then back on). There is the option to go into Device Manager and disable the device there.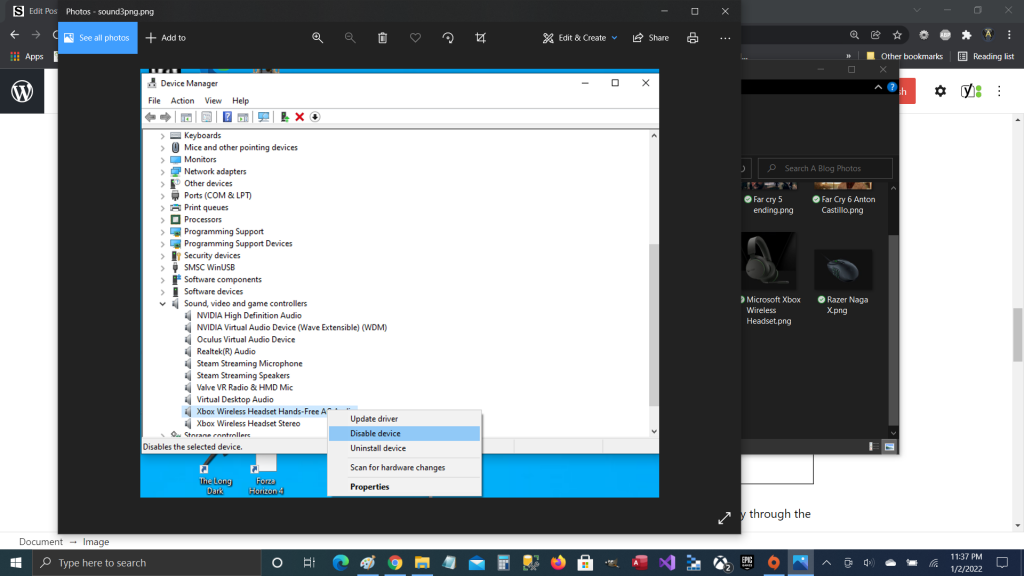 That automatically applies the fix, but again that likely disables the microphone. Still a great option to play through the campaign. Now back to playing …