Last time I mentioned possible power issues and it turned out I did need a new RTX 3090 ready power supply after all. My 700Watt was not efficient enough, so I went with a 1000 Watt PSU. Everything is good now, just in time for Cyberpunk 2077.
The new PSU for my RTX 3090
There were a few system restarts when changing my Valve Index refresh rates in SteamVR, but I had this happen in the past. It did not stop me from playing multiple games in VR, so I thought maybe it was just a bug.
I figured out I was wrong when I decided to load up the game Control to push the ray tracing limits. The game loaded, but restarted my PC after just a few seconds of playing. The UPS did not even beep, so I tried again with the PC plugged directly into the wall with the same result.
I've seen this movie before. The random restarts have been PSU problems for me 99.9% of the time. Amazon was going to be able to get me what I needed in 2 days, but I had to figure out how not to spend another small fortune (the 3090 is far too much already).
I decided I wanted to go with the top end of the recommended PSU chart for the RTX 3090. The chart I used was from tomshardware.com as you can see below.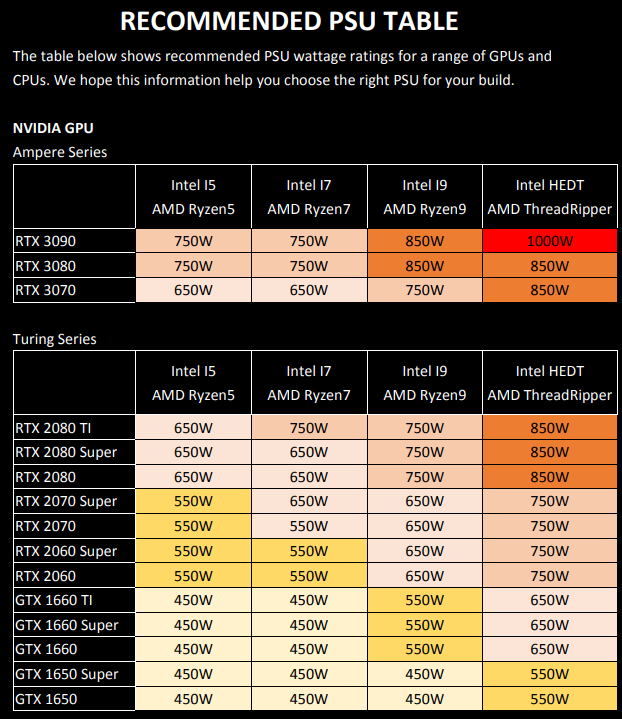 I don't really plan on getting any CPU too crazy like the ThreadRipper, but 1000W will ensure I have plenty of wiggle room. The only problem is they can easily end around $250. Luckily, I was able to find a brand that I had never hear of for $68.99, Apevia as you can see below.
Of course I was nervous about any power fluctuations a new name brand might offer (especially at this price), but this beast is 80 Plus Bronze Certified. That gave me the confidence to give them a try.
It had the added bonus of being SLI ready, so it had 4 PCIe connectors via 2 separate cables. Some builders suggest using 2 separate cables for the power connectors to the RTX 3090. Whether that is best or not, this PSU had me covered.
Now I have it, installed it and it works great.
A Few More RTX 3090 Power Supply Tests
Going back to my control test, ironically the game Control, I was able to play for 20 minutes (before seconds in would restart the PC). All the graphics settings (RTX included) were turned up and it was so much smoother than I remember. I thought I could claim victory right then and there, but more testing was needed.
Next, I loaded up Watch Dogs Legion since that was setting off my UPS in the part of the game I was at. Playing for a few minutes sitting there the game remained solid and no beeps from the UPS. I will have to get around to finishing that game before I move onto AC Valhalla, but there's another big game that will make that difficult.
Fast forward a few busy days and I was able to play Cyberpunk 2077, the PSU was great and the 3090 made the game look beautiful. Let's face it, the PSU and 3090 were all part of my quest to play the game EVERYONE has been waiting for the way it was meant to be played. Next time I'll get into how great that game is.