Last time, I setup my Logitech G920 for Forza Horizon 5. I mentioned a desire to upgrade to the Thrustmaster TH8A Shifter Add-On. It was out of stock weeks after Christmas, but I finally snagged one and it was worth the wait.
Installing my new Thrustmaster TH8A Shifter
My old Logitech shifter was not bad. It did feel a bit cheap with all that plastic and took up a lot of room. The screw clamps on each side took up so much space. It was impossible to mount the handbrake next to it as I wanted.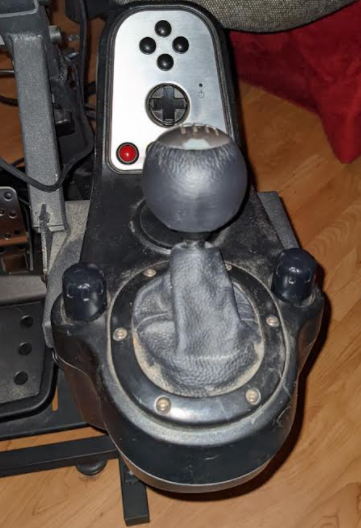 Once I removed the old shifter, I realized how much space it really took up. I also realized how dusty the sides of that mount plate were. Too much cleaning takes up valuable playtime, so I skipped that a couple dozen times.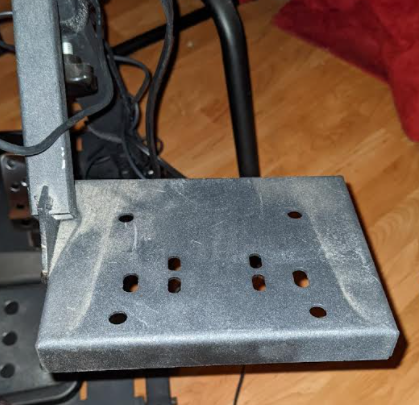 My first step to mounting the new shifter was to set the handbrake to the far right. The built in clamp did not extend far enough under the mount to fix in place. A thick rubber stopper I had filled the gap. With that secure in place, I played around with the position of the new shifter.
One of the reasons I chose the Thrustmaster TH8A shifter was how easily I could mount at an angle. I was able to mount at almost a 45 degree angle. That angle saved enough space to grab the handbrake when the shifter knob was all the way to the right. All while leaving enough leg room for me. I'm in the habit of resting my knee on the center console of my car, so the position is comfortable me.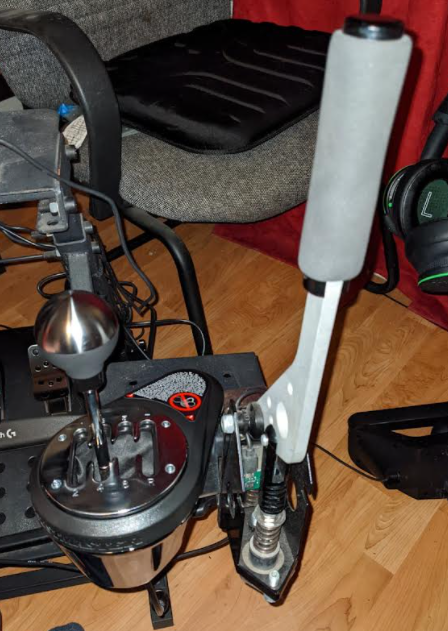 With my position locked it, my last step was to loosen the H-gate face screws to change the angle. This was to correct for my Thrustmaster TH8A mount angle. That was no issue once I twisted the H-gate direction to match the straight up and down I'm used to.
Mount-wise I was super excited with the results and Windows 10 installation was super easy. The box included an alternate shift plate for sequential shifting, but I doubt I'll use it anytime soon. With that piece tossed to the side, it was time to try it out in Forza Horizon 5.
Shifting the Thrustmaster TH8A Gears in Forza Horizon 5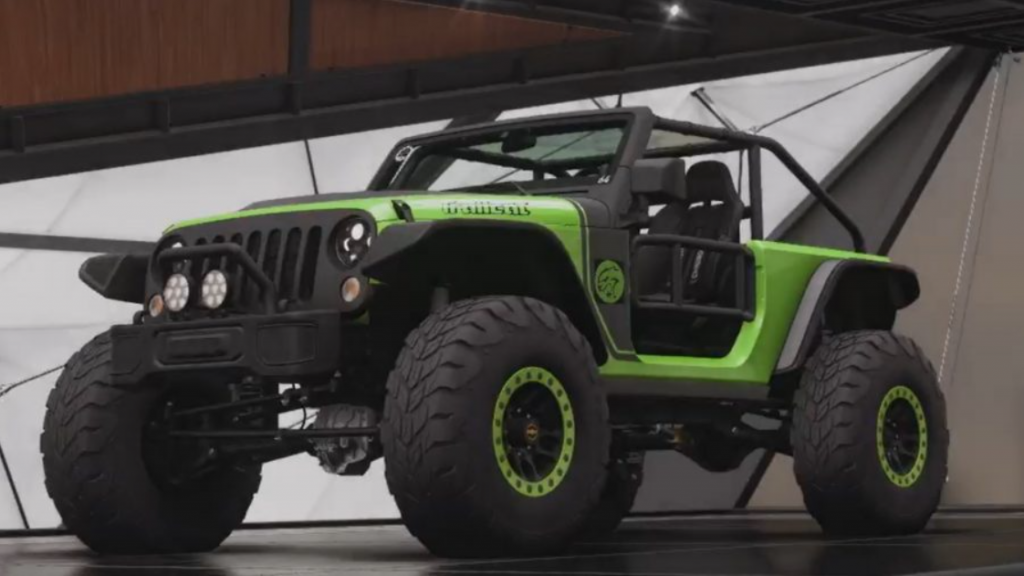 Once I loaded into my Forza Horizon 5 game, the game did not automatically map the shifter for me. It was a quick fix to map in key bind options and I was literally off to the races. The Thrustmaster TH8A shifter is mostly metal and feels great. Shifts felt much better and closer to true to life.
My wife let me know right away the metal clank was definitely louder than my old shifter, but oh well. I also noticed gears 5 thru 7 will take some getting used to. Muscle memory for 6 speed H-gate shifters is hard wired to hit gear 5. Now that position is gear 7.
Forza has too Many Gears
That will just take time to get used to. Forza really annoyed me with the ridiculous number of gears many vehicles have. 10 gears on some, it's crazy. I know it's due to newer automatic gear boxes. It's just bad Forza won't let me choose to drive the car the default way the car comes. Either I always drive automatic or always manual. Manual I only have 7 gears now, with the 8 gear reserved for reverse.
There is a decent solution to this problem though! Forza Horizon 5 parts customization includes 6 and 7 speed gear box options for each car. Perfect for my new Thrustmaster TH8A shifter. Any car I've tried to, I can set the gears to match my shifter.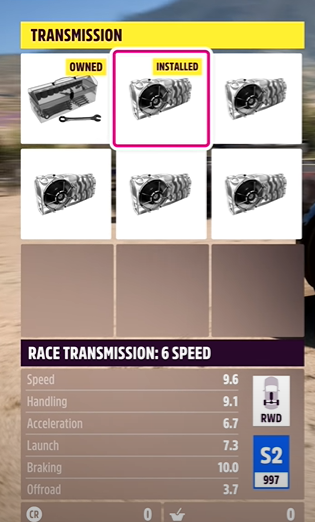 With my shifter setup, handbrake properly mounted and Forza Horizon 5 gear box set, I spent hours loving the game. For me, it was really worth the extra price for the Thrustmaster TH8A shifter add-on. The look, feel, mounting and fun are all worth it. I highly recommend it for your current or next racing setup, unless you are an automatics only scrub.