In between playing God of War and finishing Vox Machinae, I upgraded my Logitech G920 racing wheel stand. Forza Horizon is fun to play in between longer games, but my old wheel stand was not stable with my gaming chair. Not only did I find a new wheel stand with a much more stable chair situation, but also much easier to fold up and put away.
My Logitech G920 Stand Issues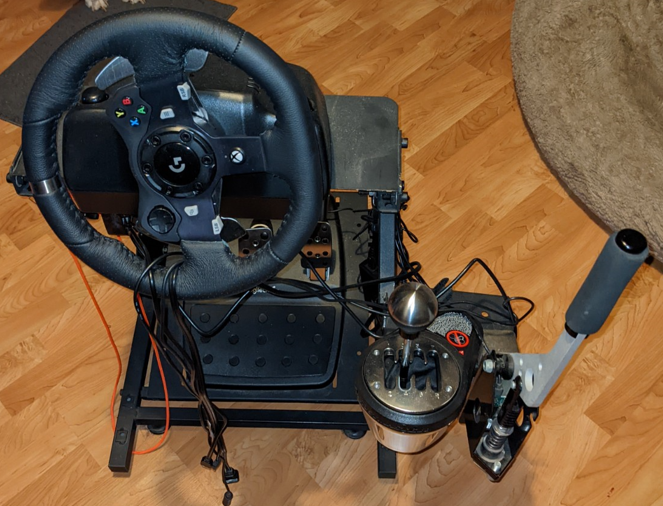 The old racing wheel stand wasn't bad. It fit all my steering wheel kit, TH8 shifter and handbrake. Those were all stable, save a bit of flex when pulling back on the big handbrake. The biggest problem was the chair situation. Push a pedal and those office chair wheels roll back.
My solution for keeping my gaming chair from rolling backwards was a cargo cable with clips on both ends. I'd clip to my wheel stand and wrap around the back of the chair before clipping to the wheel stand again. Although it kept my chair from rolling straight back, there was a bit of side to side roll. Setup and trying to get out of the chair were also iffy.
Another slight issue was the way the racing wheel stand folded up for storage. There were 2 hand screws to remove before any folding happens. Once folded, it was not as compact as I'd like due to the way the pedal assembly poke out and touch the stand sides.
After quite a bit of searching to solve my chair issue, I found a stand that solved both of these problems very well.
My New Minnear G920 Racing Wheel Stand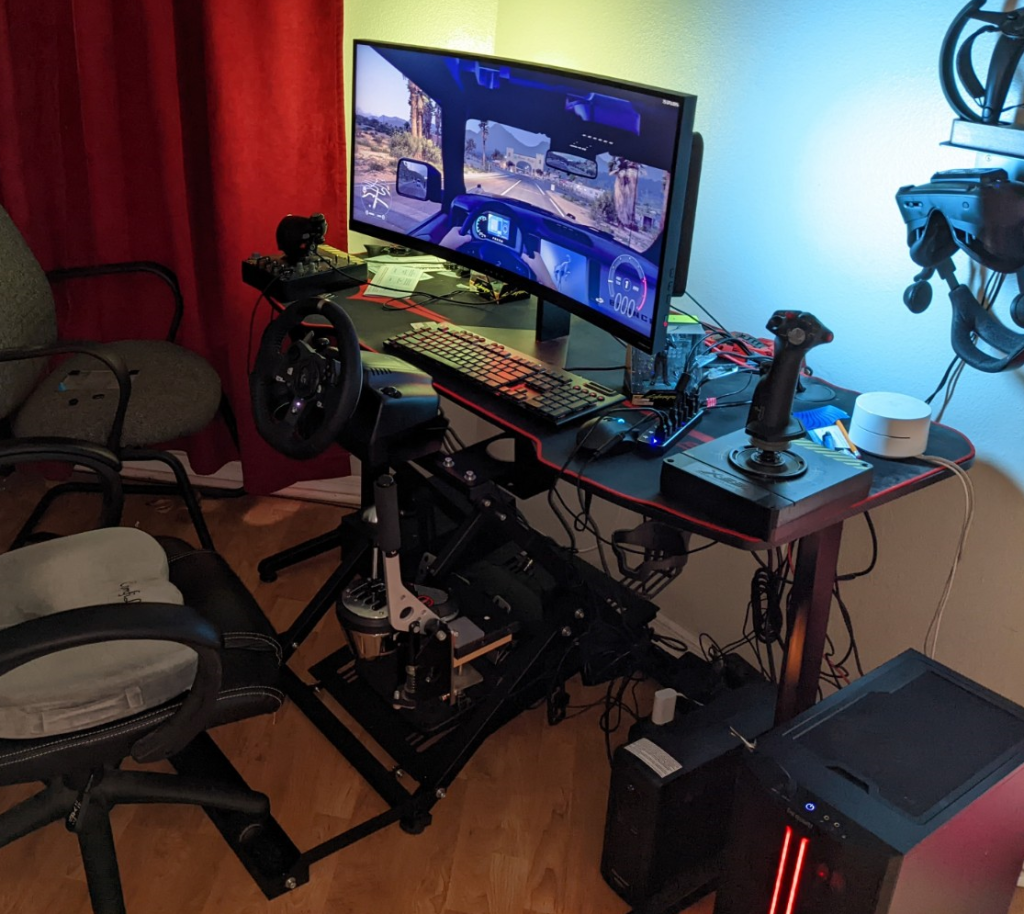 After searching for something to connect to my old wheel stand to secure the chair, I finally just broke down and bought the Minnear G920 Racing Wheel Stand. The racing fixture attachment it comes with inspired my long search for something to attach to my existing setup. When that search failed, I just bought the whole thing.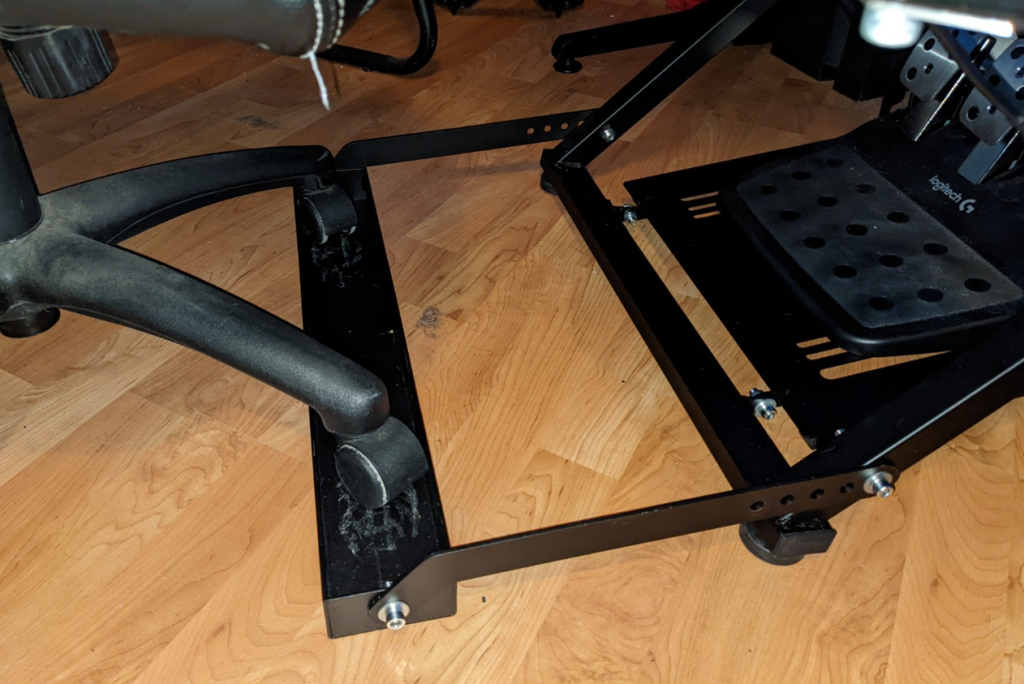 The racing fixture attachment is basically a metal trough secured to the wheel stand that fits office chair wheels. No more dealing with the a cargo strap. Now I just pop the front wheels of my chair into the fixture. It's quick and easy, but more importantly, solid. I now have the benefit of a fixed racing seat, without losing the flexibility of a wheeled chair.
To me, the price for the whole setup is worth that racing seat fixture alone. They could absolutely sell a universal fit version of just that piece for $60+. I'd have paid that, for sure. It's worth that to just add onto an existing setup instead of the hour I spent unscrewing/fastening to swap out everything.
It's great to finally solve the main chair issue I had, but this wheel stand also flexes the way it folds up. There are hand screws to tight the height of the pedals, but I they are attached to the assembly. I leave them loose to have pedals sit on the floor. With those loose, I can also easily fold up the entire wheel stand without messing with screws.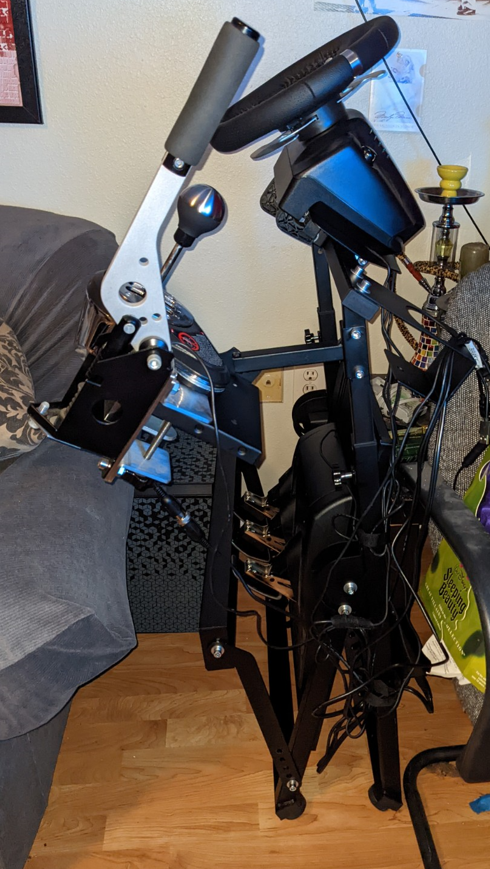 Once it's folded up all the way, the wider pedal area leaves more breathing room. It's actually much more compact folded compared to my old wheel. I love the easier storage option. I do wish there was a clip for the office chair fixture to keep from unfolding cause I did hit my ankle once, but trick is just hold you leg next to it when moving.
My old wheel stand was great, but this new Logitech G920 racing wheel stand is a huge upgrade for me. The added chair stability and easier storage setup are a great combo. I highly recommend for anyone with a racing wheel/pedal setup. I expect